Make your time reporting more modern and effective with TimeplanGo
Help
team leaders and employees
save time
while
facilitating
time reporting.
C
reate
a modern time reporting
process
with
TimeplanGo
and
enjoy
access to smart tools that streamline the process, from reporting to
authorisation
and payroll management.
Digitise your time reporting with clocking directly from your mobile phone
Use
TimeplanGo
to s
treamline time reporting and all
administrative work
associated with it. Employees
clock
in and out
of shifts
effortlessly
using
their mobile
phones
, while you as a team leader can see who is on site
and
can handle
any deviations
– all
thanks to integration with your schedules
.
Get started today – time reporting with
TimeplanGo
is completely free,
has no
time limit and requires no payment details.
Smart features make time reporting easier for everyone at your company
Automatic

punch

clock

ing
Many organisations still use manual time reporting tools like Excel and personnel ledgers. This is ineffective and increases both the margin of error and the possibilities of abuse. In TimeplanGo, you get a digital time reporting system free of charge and a smart punch clock in your employees' phones via the Timeplan app.
Integrate your schedules with time reporting
In TimeplanGo you can integrate the time reporting system with your scheduling. This way, you get a clear overview into how your employees' scheduled working hours compare to their actual time worked. If any deviations occur, you can easily catch and address them.
Smooth

and easy

deviation reporting
In TimeplanGo, employees can report their deviations, such as sickness, absence, flexitime etc directly in the app. It is easy, convenient and transparent both for you as team leader and for your employees. Thanks to its integration with the scheduling system, the system also knows when employees are scheduled to work and catches deviations automatically.
GPS positioning & Wi-Fi locking
With TimeplanGo's built-in GPS positioning and Wi-Fi locking, you can determine how and where employees can report their time. When you activate Wi-Fi locking, your employees must be connected to the company's Wi-Fi in order to be able to clock their timesheets and the GPS location at which the clocking takes place is stored using GPS positioning.
Real-time attendance overview
See who should be clocked in, and if they are. Of course in real time.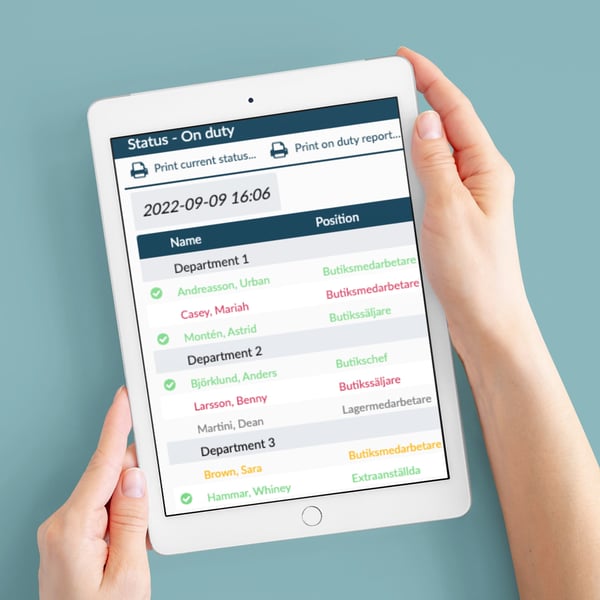 For whom?
Are your employees' timesheets often incorrect, or do they arrive later than desired? With TimeplanGo's digital time reporting system, you can eliminate all uncertainties that may arise among both employees and team leaders. Employees easily report their work shifts directly in the app, while the system automatically keeps track of human resource management
on your behalf in your capacity
as team leader.
Challenges you face in everyday life:
It is difficult to see which employees are in the right place at the right time.

With analogous time reporting, there is a high risk of misinterpretation.
Your time reporting processes are ineffective.

Timesheets arrive too late and are often incorrect.

It is time consuming for you as a team leader to review and check the reports.
Here is how TimeplanGo resolves the challenges for you:
Employees check in and out easily using a punch clock directly from their phones.
Digital and automated time reporting minimise the margin of error.

Connect your schedules with the digital punch clock in order to make your processes more efficient.

The system helps you detect any deviations from the scheduled time.

Achieve a modern and automated time reporting and payroll management process.
How TimeplanGo facilitates your time reporting
Payroll managers and CFOs
Staff Manager
Your work as manager is streamlined because TimeplanGo's punch clock automatically records employee timesheets, while minimising manual work. This gives you a clear overview of employee timesheets, helping you to handle any deviations.
CEOs and owners
As owner or CEO, you have great responsibility for the company. You need to be able to make quick decisions, build trust and confidence among your employees, while at the same time producing results. For example, if you have ten employees, whose time reporting deviates by 5 minutes each day, and whose hourly cost is £15 per hour, the deviations will cost the company £3000 over the year. The bottom line is that a few minutes can make an enormous difference to the annual results. With TimeplanGo, you can keep better track of employee hours and get a clearer overview of reported events.
Payroll managers and CFOs
Accuracy and timeliness of timesheets make your life as payroll manager much easier. Payroll management becomes more efficient and you can devote your efforts to the more important aspects of your work, instead of following up incorrect timesheets with employees and managers.
With TimeplanGo, you no longer need to contact the manager to ask questions or to process incorrect timesheets. Instead, they can add comments during authorisation, so you do not have to email back and forth to resolve the deviations. As a payroll manager or CFO, you also receive excellent support when preparing your payroll. In TimeplanGo, you can transfer schedules and timesheets to the payroll system completely automatically and if you have collective agreements, TimeplanGo can also handle all your salary calculations for you.
HR managers
As HR manager, you have the ultimate responsibility for HR-related processes, procedures and tools while providing support to both managers and employees in their everyday work.
When all employees use a punch clock and the same time reporting process, you avoid unnecessary discussions and misunderstanding about time reporting. With the time clock, all employees know that their timesheets are calculated at the end of the day in the same way.
With digitised workforce management, Hemservice can spend more time on developing their business
When
Hemservice
realised that they did not have
the
time to develop the
ir
company, they decided to implement a digital human resource management system. Read about how we at
Timeplan
help them digitise and automate
much
of their human resource management while
making it possible for
employees to report their time
effortlessly
and hassle
-free
.